Gecko Technology Development Co., Ltd.
Your Position:
HOME
>
Gecko Technology Development Co., Ltd.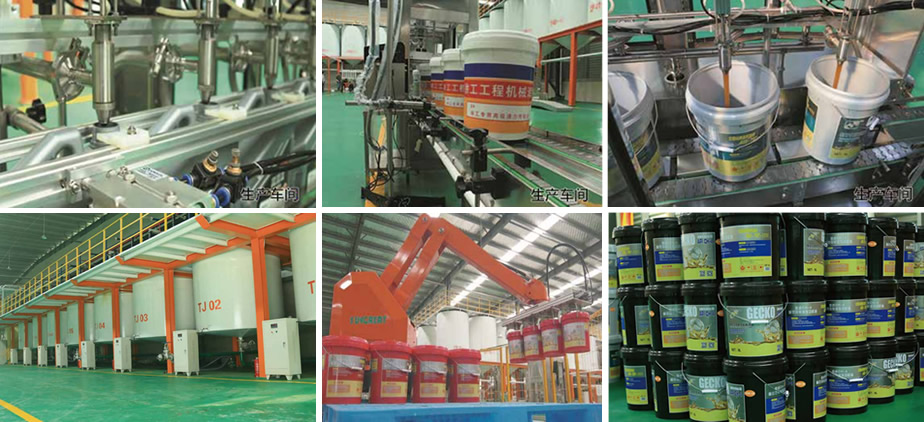 Gecko Technology Development Co., Ltd. Located in Ganyu Marine Economic Development Zone, Lianyungang City, Jiangsu Province, the enterprise is a provincial major industrial project which was jointly attended the foundation laying ceremony by the Party Secretary and Mayor of Lianyungang City and Mr. Xu Liang, Chairman of the Group. The company covers an area of more than two hundreds thousand square meters, construction area of 110,000 square meters, a total investment of 1 billion Rmb, mainly produces medium and high-end lubricating oil, grease, car maintenance supplies, car parts in one of the national large high-tech enterprises.
The company has passed ISO9001:2008 quality management system certification, ISO14001:2004 environmental management system certification, GB/T28001-2011/ OHSAS18001:2007 occupational health and safety management system certification, and has passed the American Petroleum Institute API quality standard, American automotive engineers SAE, Volvo quality standard requirements, and access to the API logo. GECKO (GECKO) brand covers automotive lubricants, industrial oil, Marine oil, grease, antifreeze, brake fluid, and thousands varieties of car maintenance, can provide vehicles and equipment with professional, comprehensive, excellent lubrication maintenance scheme, is the most abundant domestic oil products, services, one of the most complete manufacturers.
The company takes science and technology as the guide, invests heavily in research and development, has a number of experienced, skilled senior lubricating oil experts, and is committed to product innovation and market research professional team. Gecko distinguished nationally known lubricants experts, national sixth and seventh gear oil team leader, supervisor of postgraduate, professor Huang Guoliang, petrochina dalian petrochemical research institute senior engineer Wang Chenggong professor, professor Xu Ping as accredited senior technology consultant of our company, for the gecko technology and research and development of science and technology team adds a powerful support and guarantee. Enterprises with "Internet +" intelligent network based on national strategy, through the acquisition of the international advanced laboratory, laboratory equipment and professional testing instruments, set up perfect scientific quality management system, now has the international leading pulse pneumatic harmonic equipment, industrial automation systems, ERP system, DCS automatic filling production line, such as the Italian precision filtration system production technology and equipment, to form a total of 200000 tons/year capacity of lubricating oil production line, 50000 tons/year production line, the grease 50000 tons/year automobile maintenance products production line, through the intelligent manufacturing, to provide customers with mass customization. Production workshops are fully enclosed and dust-free design, automatic intelligent production line, with high standards, high requirements seriously produce each barrel of oil! Enterprise adhere to the people-oriented business philosophy, since its inception to pursue the marketing network, management modernization, service standardization, product internationalization of the business model, equipped with professional pre-sale and after-sales service team. Through pre-sale quality control and after-sales considerate service, the company has successfully reached cooperation with XCMG Group, Qingdao Port Group, Rizhao Port Group and Lianyungang Port Group, which rank the first in China's construction machinery industry. The company highlights the development of network and channel construction, strengthen customer management, improve market control, and provide consumers with better products and services. It has formed hundreds of sales channels covering 32 provinces, municipalities and autonomous regions in China, and its market share has increased steadily. Gecko technology through technological innovation, deepen brand building, market-oriented, production, sales, research and development of the combination of mutual benefit. Continue to improve the level of automation and information technology to achieve manufacturing process control, excellence, quality of survival, quality of development, self-discipline, through continuous improvement of technology and service level for self-improvement, always keep the industry advanced. We are willing to carry out various forms of technical exchanges and cooperation with you, to better and more superior product quality and service with your common development, common brilliance, and strive to build a new Eurasian bridge eastern bridgehead another bright pearl!